When we were starting our test prep program, a school principal asked us why anyone would practice for a test that they can't see beforehand anyway.
I had just seen a documentary on a race called the Baja 1000, and so had a pretty good metaphor ready to go.
The Baja 1000 course changes every year, so you can't just rely on last year's experience. But you can go to Baja before the race and drive the course to get an idea of what you'll be facing. All the top finishers do.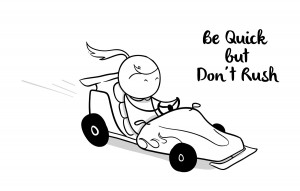 In the days before the real thing, they drive the thousand miles from beginning to end to get familiar with all the twists and bumps that they'll see when they do it for real. Now it isn't quite like the actual race, where you're under pressure and the clock is ticking in your ear.  In the real one you've got other racers on all sides of you, bumping into you, stalling in front of you, trying to get you out of their way. The track gets chewed up from hundreds of sets of tires running all over it for 30 or 40 hours. But the ones who do the best have at least taken a look before the real action kicks in. They know the track better than the ones who didn't bother to get an early start. The ones behind them.
Good test prep should work like that. No one will get to see the actual questions they'll face on the test, but getting as familiar as possible with the race track – or the test – is a big boost. And going into a race without having any idea what the track looks like is preparing for trouble.